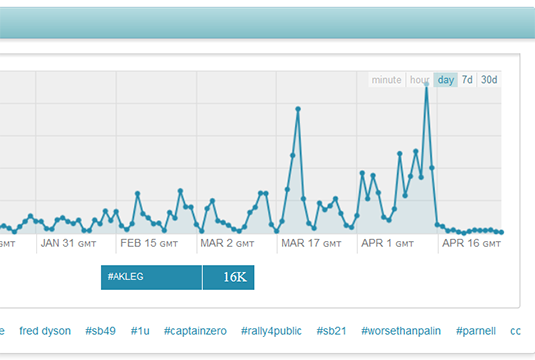 Journos on the political beat finally have some time to catch their collective breath now that session has ended. While there are no statistics on last year's Twitter usage for session coverage, we can take a look at this year using analytics from Topsy.
For those of you who might have doubts about how important tweeting can be for a beat, here is a number to keep in mind: 19,695,819.
That's the number of impressions (read: the number of potential times tweets with #akleg appeared in a twitter user's timeline) that #akleg tweets saw over the course of session. That means there were nearly 20 million opportunities to put content–your content–in front of an interested audience.
Between Jan. 1 and April 28, there were 16,345 tweets posted with the #akleg hashtag.
Top 3 Days for Tweets:
April 14 – 1,147 tweets
March 21 – 956 tweets
April 12 – 631 tweets
Top Experts: (Authors who talk about the topic, sorted by frequency of tweets and author's influence level)
Shannyn Moore (Blogger – Influence Score 5) – 373 tweets
Gavel Alaska (Journalist – Influence Score 0) – 1.1 k tweets
Johnny Ellis (Senator – Influence Score 0) – 1.2 k tweets
Grace E Jang (Journalist – Influence Score 1) – 71 tweets
Matt Buxton (Journalist – Influence Score 0) – 852 tweets
Sentiment: (Topsy Sentiment Score has a range from 0 – 100 with 50 being neutral — i.e. higher scores are more positive).
The overall sentiment score was 53, which is pretty close to neutral.
Top link destination in tweets

360north.org
adn.org
1020koan.com
tax.alaska.gov
tl;dr version: Tweet your beat!
Full disclosure: Heather Bryant is an employee of 360 North and KTOO radio.